Harbert Home Systems & Control4 to Keep You Connected Everywhere
Michigan's own Custom AV Sales & Installation experts explore Total System Integration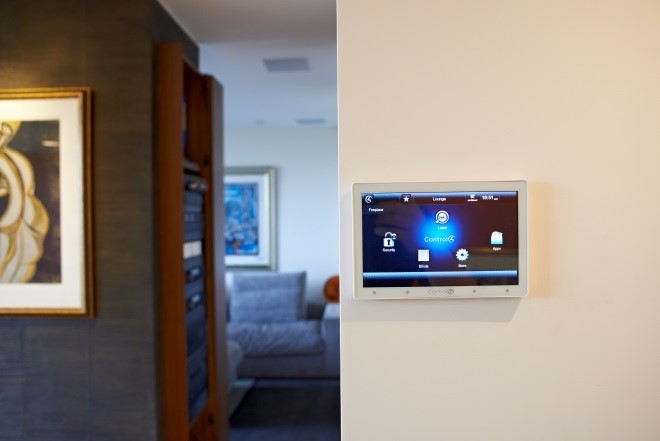 Harbert Home Systems is determined to be your resource for all things home automation. To that end, we wanted to focus this inaugural edition of our new blog on a key integration partner; Control4.
Imagine receiving an alert from your phone while you're away from home that says your garage door is open, and then it gives you the option of closing it. Or imagine pressing a button as you leave the house and your AC shuts off, your lights go out, and your alarm system powers up. Then, when you return home, another button push brings up the lights you have selected for that time of day, turns on your music or queues your television (or home theater) to your DVR. Such progress is no longer limited to your imagination and such functionality and ease-of-use has made Control4 a preferred entry-level solution for smart home automation.
Who is Control4?
Control4 is a Salt Lake City, Utah-based company that has made value and the customer experience its priorities since 2003. Control4 emphasizes usability within their product offerings, bringing you control over virtually everything in your home from almost anywhere you happen to be, whether you're at the office across town or on vacation halfway across the world.
For an all-in-one home automation system, there are few packages that can beat the ease of use that Control4 provides. Keep in mind, this total automation system must be installed professionally by an authorized dealer, such as Harbert Home Systems.
Ease is key
Control4's total system integration makes it extremely easy to use, and their policy of professional installation only augments this. You simply tell us what you want and Harbert Home Systems takes care of the rest, tying it all in to a centralized control pad as well as a convenient web app. Once installed, there is nothing complicated about Control4's system.
With Control4, you can govern every enabled device in your home from a centralized location, be it a Control4 touchpad, a standard desktop computer, an iPad or a smartphone; you will be in complete control from any location with an internet connection. You can also set up certain events to take place automatically through basic triggers and scripted actions. For example, you can set your house lights to turn off at 9 pm, or set up a more complex action that turns off your lights, locks all of your doors and turns the thermostat down to conserve energy, all at a specified time.
As customizable as you need it to be
If you require customization, Control4 is the answer. By working with the professionals at Harbert Home Systems, your Control4 will be configured for your house and your setup, meaning it doesn't matter which components you have for your TV/stereo—we can make it work. Plus, it will work together with all your other components. We can write specific drivers for the software to talk to your random region-free DVD player through its IR port, as an example. It's all doable.
Beyond the initial setup, you have the option to get Control4 branded AV products like receivers, amplifiers, tuners, speakers and touchscreens that you can mount on walls and surfaces in your home, and power adapters, so you can switch anything that's plugged into the wall on and off. Besides the main categories (lighting, A/V, HVAC and security), you can automate virtually anything, from remote gateways and security cameras to window shades, intercoms, speakers and music systems.
Call Us Today!
If you are interested in getting more information about Control4 home control solutions, don't hesitate to contact their Authorized Michigan Control4 Dealer (again, that's us: Harbert Home Systems) today. We look forward to working with you!

No video selected.