Is Whole-House Audio Distribution Exclusive to New Constructions?
Harbert Home Systems Explores Enhancing Your Lifestyle with a Sonos Whole House Music System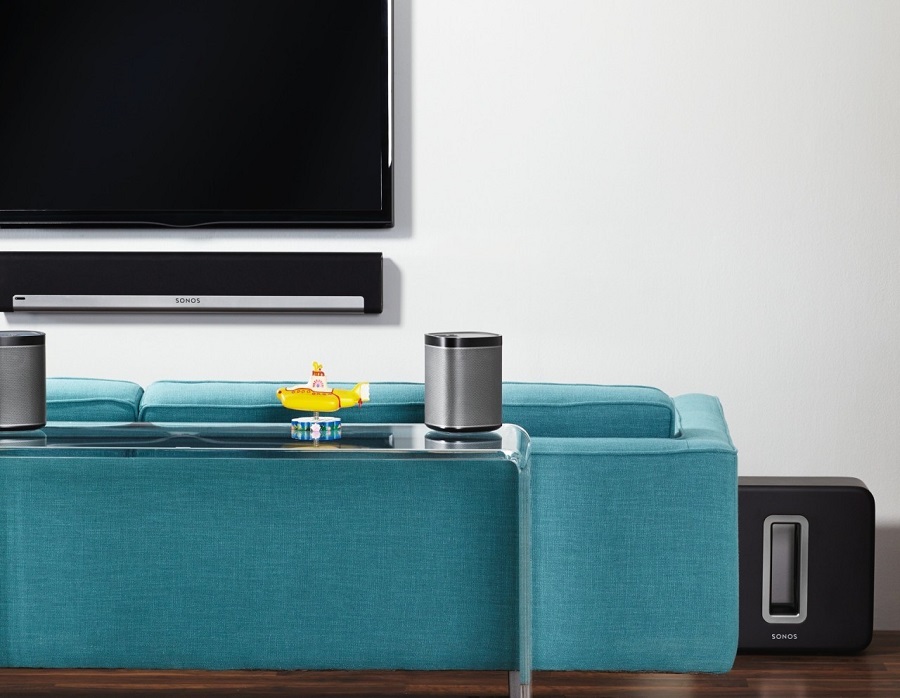 Whether starting from scratch or adding additional components to a current smart home, Harbert Home Systems can help create the perfect atmosphere for entertaining, with a whole home audio distribution system!
Choose to hear one album throughout your home or listen to classical music in the kitchen while the kids jam out in the backyard-we have you covered. From Saginaw to Midland and everywhere in-between, we are ready to turn your home into the ultimate spot for hosting parties as well as a comfortable place to enjoy everyday activities.
At HHS we make sure that your sound system only enhances your atmosphere and never compromises your décor. Hidden wiring, concealed speakers, and wireless systems like those manufactured by Sonos allow for great sound in every room of your home. How else does Whole House Music make life easier? Let's take a look.
Wireless Streaming
Listen to your favorite tunes or explore up-and-coming artists. Sonos lets you choose from your personal music library as well as streaming music services like Spotify and Pandora or other cloud players. With audio distributed throughout your home, you can play music stored on a laptop, tablet, or dedicated server to your system from any room! You can take control of your listening experience with your smartphone, tablet, or computer, and play a different song in every room or the same song everywhere in perfect sync. Harbert Home Systems even provides structured wiring solutions to guarantee the best possible service for all of your internet supported technology.
Intuitive Mobile Control
With Sonos, Harbert Home Systems can deliver a HiFi sound experience all from the devices you use most! We make it easy to have full control of the music in your home, all with a single touch. Plug in an iPod, stream from Pandora, or have guests connect via Bluetooth. Systems can be controlled from a variety of mobile devices including an iPhone, Android or iPad. Harbert Home Systems also specializes in custom remote controls to create the best entertainment experience possible Let your guests know it is dinner time by adjusting the tunes on the patio while prepping the table in the dining room.
Invisible and Wireless Speakers
Create the perfect set-up for your home using a combination of wireless, in-wall, and hidden ceiling speakers from our favorite manufacturers. Our systems can also be integrated into a Control 4 automation system for complete system control. With whole home audio, you can play music from a single source across multiple rooms when entertaining or from several sources simultaneously. You can even extend your music outdoors with weatherproof speakers. At the push of a button, in any room, you're listening to your choice of music.

If you're investigating options for a new construction, give us a call! Whether in Saginaw, Midland or Bay City, Michigan. With audio solutions from brands like Sonos, Harbert Home Systems can help create a true, multi-room audio experience at an affordable price!