Hide Your Technology with Harbert Home Systems
Seura Fuses Technology and Décor for Style and Sophistication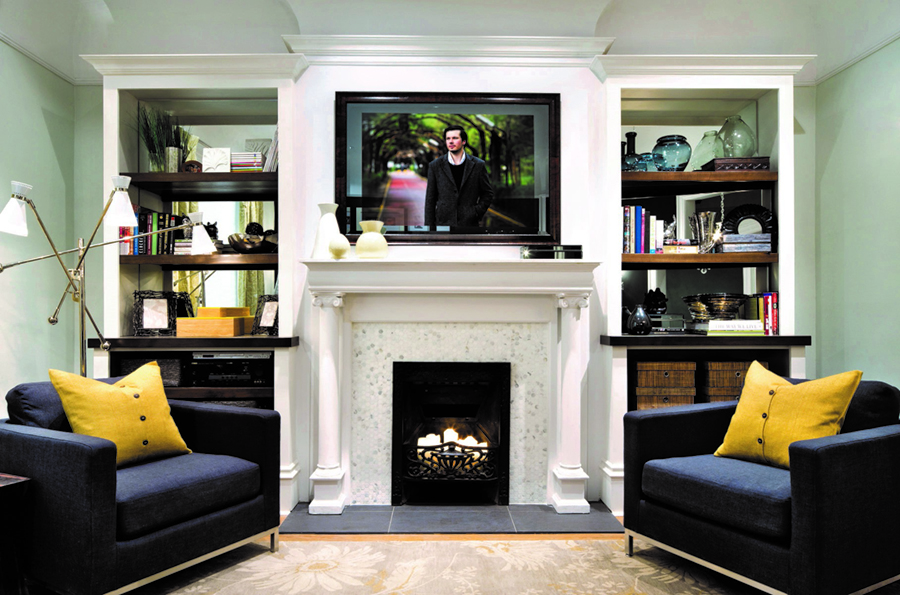 For years, interior design and technology installation seemed worlds apart. You hired an interior decorator for the color scheme and furnishings, and an AV team to install the entertainment systems. However, today with products from Seura and professionals from Harbert Home Systems, you can kill two birds with one stone by blending the two in your Michigan home.
You don't have to sacrifice beauty for function anymore. Seura makes products that bridge the gap between technology and décor. In this blog, we'll show you how their products make this happen and transform every piece of your home into a hidden gem.
Make your TV vanish in the living room.
Seura has a lot of options when it comes to hiding your TV and making it blend in with the style of your interior. One popular set up is to frame your screen so that it looks like a decorative mirror, but functions as a television. Whether you want a frame that's modern, vintage, or rustic, Harbert Home Systems can help you create the perfect display in your living room.
Hide a screen in the bathroom mirror for convenience.
It's a lot easier to wake up in the morning when you have an engaging program in front of you. By installing Seura's enhanced vanishing TV mirror, you can multitask while you get ready for your day—watch the news and brush your teeth at the same time! You can also add a vanishing clock to stay on time and get a waterproof remote so that it's protected from accidents.
Install waterproof TVs in the kitchen or bathroom to protect your technology.
Seura's line of waterproof TVs called Hydra make it perfect for you to watch your favorite shows and not worry about getting water on the glass. The glass face is also easy to clean, so if the kids get a little too crazy making those personal pizzas, it's really not a big deal.
Leave your TV outside, even in the storm.
The Seura Storm Series is formatted for any outdoor environment. These TVs have a triple lock seal to protect itself from contaminants. Its LuminOptics technology makes it viewable in the sunlight, but still durable enough to endure temperatures between -30 F and 140 F.
With Seura, Harbert Home Systems can help you design your home for any activity and still maintain style and elegance. We assure you that our professionals can meet all of your needs, whether you want to hide every TV in your home so that you can only see your reflection, or you simply desire weatherproof, waterproof, and messy-kid-proof TVs to protect your investment.
If you live in the areas of Saginaw, Midland, or Bay City Michigan give us a call at (877) 447-8958 or fill out the contact form on our website. With so many options in hidden technology, you're sure to find something that matches your personal taste.